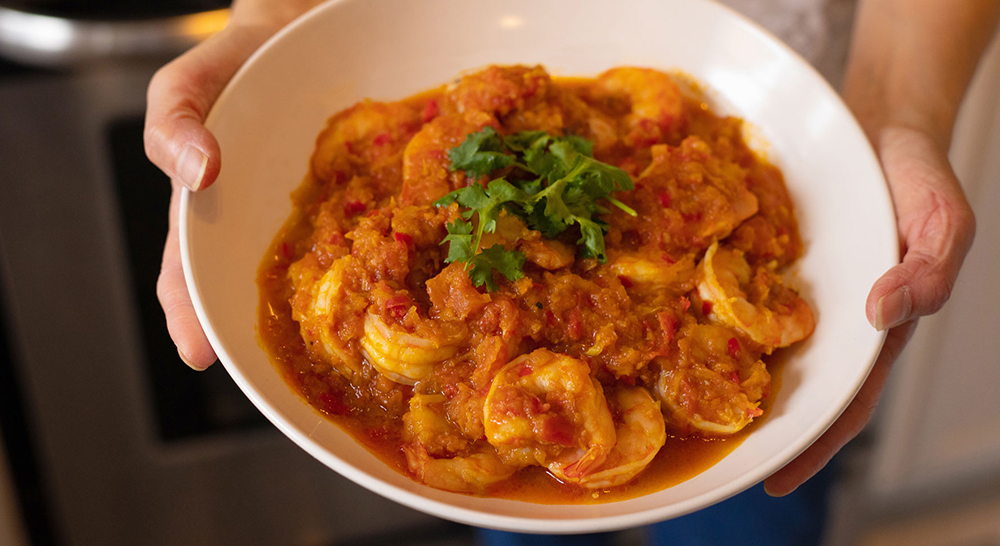 June 19, 2019 - Comments Off on Spicy Shrimp Sambal: Cooking With Momma Yong
We are all so very lucky.
Why?
Well, you know how some of your friends or family have that mom? Y' know, the one who cooks an amazing [insert dish name here] but who can't or won't share their recipe and/or techniques with the world? It's the type of recipe they've cooked hundreds of times to much fanfare, but whose secrets are accessible only to them. It's the type of dish made by muscle memory. A dish that warms your soul (and belly!).
This is that dish.
Sara's mom, Bin, makes a mean Spicy Shrimp Sambal which is a Malaysian dish she began cooking over 20 years ago for friends and family. It features a wide array of Asian ingredients, including lemongrass. According to Momma Yong, "...almost everybody in Malaysia has a lemongrass brush growing in their garden. Tumeric and galangal too".
Momma Yong's Spicy Shrimp Sambal
Sambal is a spicy chilli sauce or paste typically cooked along with some form of protein (shrimp, fish, chicken, or even tofu) and is very popular in Indonesia, Malaysia, Singapore, and Sri Lanka. If you put in the time and do it correctly, with only the freshest ingredients, you will be rewarded. Any Asian supermarket worth its salt should carry all the ingredients needed for this recipe.
Serves 4-6
Prep time: 30 minutes
Cook time: 25-35 minutes
Total time: ~1 hour
INGREDIENTS
2 tablespoons of fresh ground lemongrass (chop and add to food processor/coffee grinder)

2 cloves of garlic
1 ½ to 2 inch galangal (Thai ginger)
1 inch of ginger
A thumb of fresh turmeric
2 tbsp ground dried red chilli (can be found in Asian supermarkets. Ensure they are deseeded, soaked them in hot water, and grind them up)
6-8 medium sized shallots (or equivalent of one cup chopped)
1 fresh, long red chili (optional)
1  tbsp tamarind paste (loosened with hot water)
2 medium tomatoes diced
1/4 cup water
1 pound of raw shrimp, cleaned
Salt (to taste)
Sugar (to taste)
3-4 tbsp oil for cooking
Instructions
Add fresh ground lemongrass, garlic, galangal, ginger, turmeric, shallots, dried red chili, and fresh red chili to a food processor. Process until ingredients are well mixed form a chunky paste:



Heat 3-4 tbsp of oil on medium-high in a medium sized saucepan.

Fry the prepared chili paste over medium heat for 15-20 minutes stirring occasionally until onions are soft and brown and mixture is fragrant: *add additional oil and water in 1 tbsp increments to ensure mixture does not burn.

Add diced tomatoes and water and continue to cook for another 10-15 minutes until tomatoes are broken down and soft:

Add tamarind and mix.

Increase heat to high and add the shrimp, close the lid and reduce heat to low. Stir shrimp occasionally and cook until shrimp just turns pink. Be careful not to overcook the shrimp they only need a couple minutes:

Remove from heat, and season with salt and sugar to taste.

Serve with your favourite rice, and enjoy!
Momma Yong notes that the fresh, long red chili is optional for those who don't like a lot of heat, however I think it's pretty important that this dish has a bit of kick to it.
Related