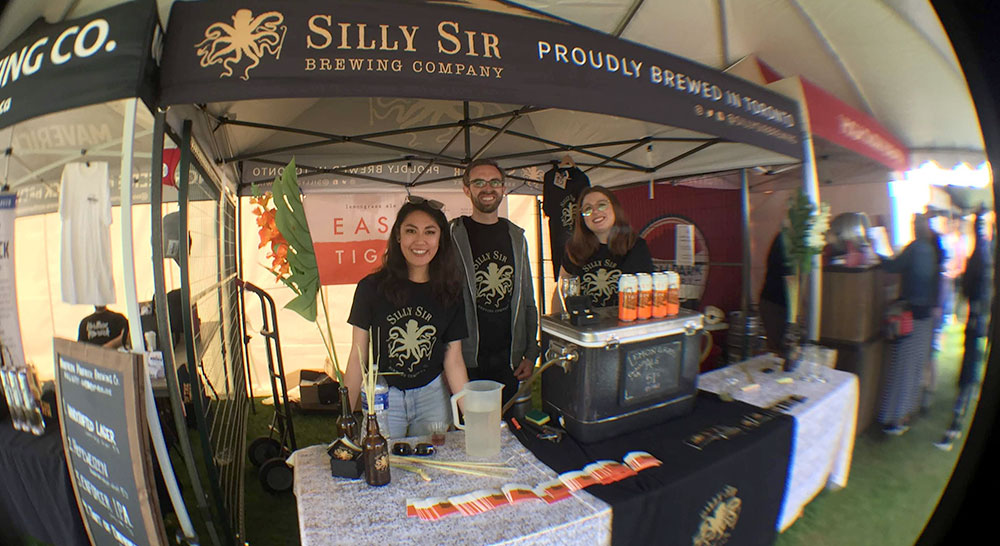 May 22, 2018 - Comments Off on Event Recap: Spring Beerfest 2018
Silly Sir makes a debut at its first festival! Spring Beerfest TO by Toronto's Festival of Beer was the perfect event to kick off our summer festival season. The 2-day festival at Fort York Garrison Common, over the May long weekend hosted over 18 breweries and cideries plus a handful of food trucks, vendors, and games. We were lucky enough to be one of them.
Thanks to some last minute event organization and mad hustle, we managed to assemble, by the skin of our teeth, our tropical-inspired booth with palm leaves and fresh lemongrass samples. We pulled together a shiny new branded tent, which we are stoked about for future events. A big shoutout goes to The Granite Brewery for letting us borrow their jockey box as ours didn't make it in time. Thank you big time to our volunbeers Jon (lager king) and Fran (Souvenir Pins).
We were pouring one beer and one beer only: Easy Tiger. It makes for a great patio beer with serious #CottageVibes. Our goals were to meet new people and have fresh faces try our beer. Thanks to everyone that came out and tried our beer for the first time which such positive feedback. We made some lovely new friends and fans of Silly Sir. Oh, and fun fact: 6 people independently mentioned that Easy Tiger reminded them of Froot Loops... have people gone loopy? We consider this high praise.
It was also great to meet the other breweries and vendors. Thanks to our friendly neighbours, High Park Brewery and Northern Maverick, for your advice and coming to some aid during foam o'clock. And a personal highlight was the honour to tap High Park's ESB cask (it was biscuity delish). Poppin' my cask tapping cherry (they also have an amazing cherry lager).
Now that's determination! Thanks to our new friend Sara from @sillysirbrewing for tapping the cask yesterday at @SpringBeerTO pic.twitter.com/4CnWvJWtIB

— High Park Brewery (@HighParkBrewery) May 21, 2018
Overall 10/10 would recommend doing an event like this, even as a small start up. You get the opportunity meet some amazing people and hone your elevator beer pitch (which I recommend, with experience, to jazz up with some dance moves). It's intimidating at first to be in the deep end with some big guns, but we came out with so much dopamine flooding our brains that we are just so amped for our next one!
Related
Published by: Sara Yong in Events